Many Harley Davidson Trike 3 wheeler owners are frequently complaining about premature failure of their electric reverse motor. The motors are particularly prone to failure if the bike has been exposed to any moisture conditions (during storage or being accidentally ridden in the rain). Once rain or water has contacted the external surfaces of the Harley Davidson electric reverse motor, it seems to permeate the internal parts, where it becomes trapped, therefore causing corrosion and electrical malfunction.
Batteries and un-maintained cable connections are also partially to blame, but most motorcycle owners are fully aware that batteries need a trickle charger during storage months. Batteries that are in 3 wheeler trikes that are equipped with electric reverse motors should possibly be considered for early replacement, rather than waiting for normal battery life expectancy time to expire. 
When considering  replacement battery specs, it should be duly noted by experienced service personnel and the respective owners of the trike, that a better than minimum manufacturer's specs for cold cranking amps and reserve capacity (rated in amp hours) is highly recommended. A battery amp hour rating is a more important spec for an electric reverse motor equipped trike. The battery needs to sustain considerable amp draw for the period of average and extended situational reverse run time. Of course, this is done at the end of a driving time, when engine alternator charging system would not normally be used to return a charge to the battery before shutting the engine down. 
And yet all things considered, the motor itself seems to fail prematurely regardless of battery maintenance or care. Inspection and tear down of more than a few failed motors reveals a common denominator : water damage. The worst news is yet to come. The cost of a replacement. : $1200.00. Yes, the decimal point is placed correctly, twelve hundred dollars ! 
BUT, WE CAN rebuild them. As long as the drive end assembly has not been permanently damaged, we are able to completely rebuild these motors and return them to a reliable service life for a fraction of the cost of a new replacement.
Remove the 13mm hex head nut from the bottom copper post on the solenoid. Remove     the brush lead wire from the copper post.
————————————————————————————————————–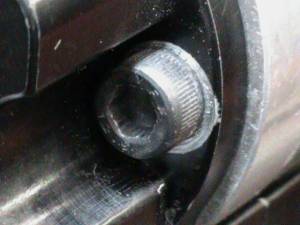 Remove the 2 allen head bolts that hold the solenoid to the drive end ass'y. Remove solenoid u spring, plunger and adapter.
———————————————————————————————————–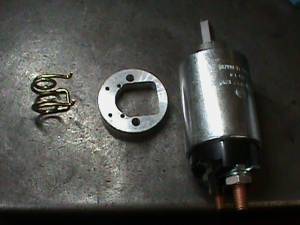 Remove solenoid u spring, plunger and adapter.
————————————————————————–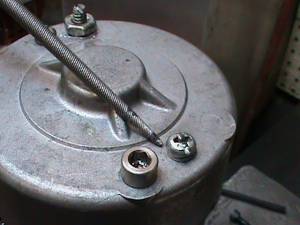 Place the motor nose cone down, backplate up securely in a vice. Remove the 2 phillips head screws in the backplate.Remove the two allen head thru bolts that hold the back plate to the rest of the motor.
——————————————————————————————————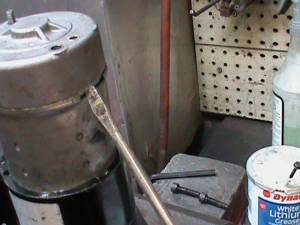 Tap up on the backplate with a small hammer and screw driver.
———————————————————————————————-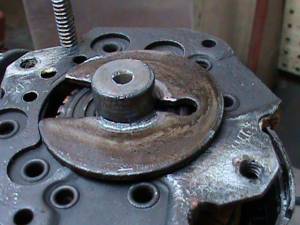 With a screw driver pry off the c clip on top of the armature.
———————————————————————————–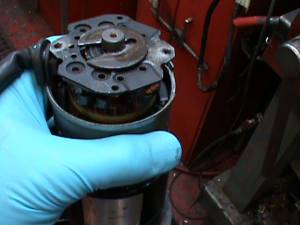 Gently tap upwards on the magnet housing with a small hammer and a screw driver, or hold the magnet housing in one hand and gently tap down with a small hammer on the drive end assembly.
————————————————————————————————————–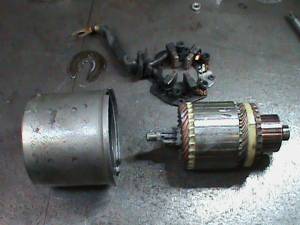 Push the armature out of the magnet housing
———————————————————————–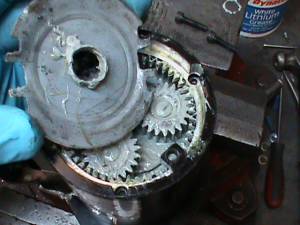 Lift off the gear cover. Looking down into the drive end assembly, remove all the allen head bolts on the outer diameter of the planetary assembly.
————————————————————————————————————-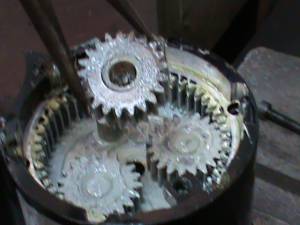 Take the three planetary gears off their posts with a pair of needle nose pliers.
——————————————————————————————————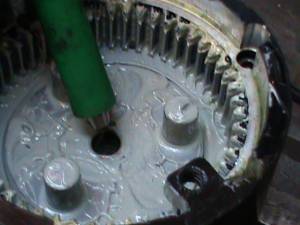 Remove the steel ball that is about the size of a BB from the center hole. (a magnet is the easiest way).
————————————————————————————————————-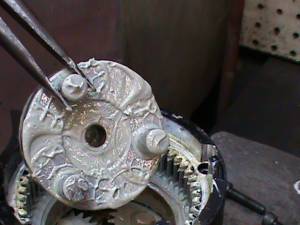 Pull up on the rotater with a pair of pliers and remove it from the assembly.
————————————————————————————————-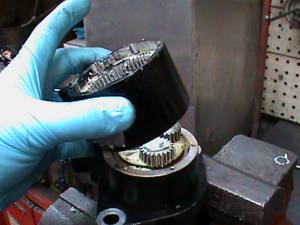 Hold the top half of the assembly and gently with a small hammer, tap down on the other piece.
———————————————————————————————————-
Remove the secondary assembly by repeating steps 9 and 10.
———————————————————————————————————-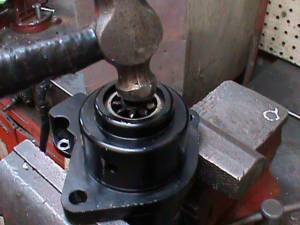 Hold outer housing in hand or vise. Tap down on gear to separate drive gear ass'y from outer casting.
———————————————————————————————————–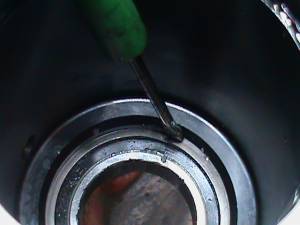 Remove drive end bearing retainer down inside the nose cone by starting with a pocket screw driver, then using a bigger screwdriver, then a pair of needle nose.
————————————————————————————————————-
Place nose cone on bench or vise and tap out bearing.
——————————————————————————–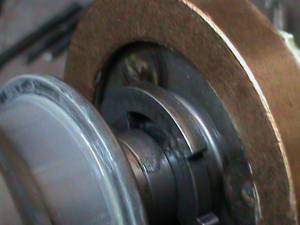 Remove c clip from shaft underneath drive clutch assembly. Push bendix on spline to bottom out on shaft. Turn ¼ turn and then pull bendix off shaft.
———————————————————————————————————–
All basic rebuilds include :
A new solenoid relay, made by the company who makes it for Harley.

New brush holder assembly which includes new brushes, guides and springs.

New bushings and armature bearings.

Refurbished, varnished armature. (we can get new ones for an additional charge)

Complete disassembly and service both planetary gear assemblies.

Glass bead and anti corrosion treated magnetic field housing.

Anti-rust, anti-corrosion high gloss painted exterior.
————————————————————————————————————–
We have acquired, and routinely obtain  the parts needed to bring these motors back to original or better than original manufacture specifications for torque, RPM and amp draw. The cost of this varies from the condition of the individual motor. Most of these reverse motors can be rebuilt for as little as $279.00. Just send us the motor usps priority medium size box with your return address or email and daytime phone number. Anywhere in the US is around $20.00. When we receive your motor we will disassemble it, formulate an exact price. Then we will contact you via phone or email whichever you choose, with an exact price. At that time, you can choose to have the rebuild done which could take up to 2 weeks, OR you can simply have the unit shipped back to you for around $20.00 + insurance. We always get insurance on the finished product.  
Performance Starter & Alternator, Inc.

2031 Harrison SW
Canton, OH 44706 (Since 1985)
330-456-3019 
8am-5pm Eastern
Monday-Friday
Performance Starter & Alternator, Inc. (the parent company of various websites including Rebuilder in a Box) was started in a warehouse in 1985. Performance, Inc and all of it's employees are located in Canton, Ohio the home of the pro football hall of fame. Ever since our inception, the primary function has been as a quality oriented alternator starter rebuilder. 
After we built our current facility in 1995, we have remained small and focused to a customized rebuilding strategy, in order to maintain a quality oriented product. We take a lot of pride in our work. Opportunities and considerations to expand into an assembly line style facility were shied away from. Instead, we prefer to stay small, with a custom rebuild style internal structure, and a very reasonably priced product.
Principles of basic operation. 83388-09A
The Harley Davidson Tri Glide Reverse motor is basically an automotive starter with a specially developed drive end assembly that contains 2 planetary gear assemblies. Planetary gears have been used by many different manufactures over the years as a reliable method to convert high speed electric motors into usable torque. In this case, HD has used the twin planetary set up to provide a handy low speed motor with plenty of power to move an entire vehicle (in reverse) with passengers.
When you put the bike in reverse, an electrical current is applied to the pull in coils of the heavy duty solenoid relay mounted on top of the motor. As the plunger (being pulled laterally by the coils) moves towards the solenoid contacts, it simultaneously from designed leverage pushes the roller clutch assembly with gear into the reverse flywheel. Then, when the copper contacts in the solenoid cap mate, the connection is made from the battery power source to the motor itself.
The result is a smooth, slow moving back up performance with plenty of power to move the entire vehicle with passengers on level ground (not uphill or ramps). As trikes become older, and batteries age with more and more use or storage time, we recommend a back-up interval of less than 15 seconds for optimum performance and life expectancy of batteries and electric motors.
Learn more about Harley Davidson Electric Reverse Trike Motors